Houses and Grandstands: Henry Norrisí Architects
Last updated: February 2009
KINNAIRD PARK ESTATE COMPANY: WILLIAM JOSEPH AND LLEWELLYN HARRINGTON
I said at the beginning of this file that Iím fairly sure that William Gilbert Allen knew the Harrington family. Here is why I think that: on the day of the 1891 Census, William Harringtonís father, also called William, was the licensee at the Halfway House, 1 Caroline Place Fulham, on the corner with Lillie Road; meanwhile the Allen family were living at 3 The Parade Lillie Road. The Halfway House would have been their local pub but just as importantly, the children of both families will have gone to the same school; so William Gilbertís younger siblings would have known the elder Harrington children. William Gilbert Allen (born 1869) had just started his own building business in 1891; KPECís William Harrington was 19 and working for his father in the pub, Llewellyn was 7 and still at school.
Working for his father in a pub was not the obvious way into a career designing houses. How William Harrington moved from one to the other is not obvious to me: I donít know when he made the change of career. Nor do I know where he learned his architecture trade. I do know that in 1894 he married Emily Ridsdill, who had been born in Croydon; and that by 1898 they had moved to Bromley and were living in Alma Grove, just south of Lord Kinnairdís estate at Plaistow. The finance for the move out of London, and what was a long period of training during which Harrington had to maintain a family, may have come from the sale of the Halfway House, possibly on the death of William Harringtonís father. By 1899 his mother (now a widow) had also moved to Plaistow, with Llewellyn. They were living in a house called Fulhamville, in Cambridge Road. On the 1901 Census, Llewellyn Harrington is listed as having no occupation; but he was old enough to be apprenticed to an architect/surveyor and maybe both brothers were training with William Prebble.
William Prebble was a local builder and surveyor who by the early 1890s was working for Lord Kinnaird on his lordshipís project to build housing on his estate. I have no evidence at all for where Llewellyn trained. However, William Harrington appears as the applicant on a planning permission document for KPEC in 1906; so he was working in KPECís office and perhaps was qualified by then. Prebble retired during 1904 and William Harrington took over his job. He also moved the office from an address in London Lane to 1 Burnt Ash Lane Plaistow, on the eastern edge of Lord Kinnairdís land, where it remained for the next 30 years. Iíve suggested in my files on KPEC that William Gilbert Allen and Henry Norris got involved with the firm at the point where Prebble died. I now say that it was William Harrington who knew them and suggested to Lord Kinnaird (his employer) that it would be a good idea to encourage them to invest in KPEC.
Domestically, William Harrington had moved quite often over the past 10 years and he continued to be restless, never living anywhere for very long. In 1906, for the first time, he moved into a house on Lord Kinnairdís estate: The Limes, Kinnaird Avenue. He might have designed it himself.
That first planning application to have William Harringtonís name on it came in November 1906 and wasnít very exciting: just a garage. It was to be built for the residents of ĎCarnoustieí on Kingís Avenue, a house which I think was not built by KPEC. The next year, however, Harrington designed four houses to be built for KPEC on Gilbert Road Plaistow. Once they were built, he and his mother may have moved into two of them: in 1907 she was living at number 21, called Elmhurst, and he was at number 7. But by 1910 William Harrington had moved again: to Park Cottage, Kingís Avenue, which he had designed for KPEC.
So by 1907 William Harrington was well launched on his career as an architect; though he never joined the Royal Institute of British Architects. His brother Llewellyn did become a member.
Because of the way Bromley UDC recorded their planning applications, it has been very difficult to identify which KPEC properties were designed by William Harrington and which by Llewellyn. I explain this difficulty in more detail in my files on KPEC but here Iíll say that the problem is particularly true of the houses built by KPEC in Plaistow. It was easier to be sure of the properties he designed in Bickley and I can talk about those, but they may not be at all like the Plaistow ones; in fact I think they are probably different in the sense that most were terraced and built more cheaply than the detached mansions of Bromley.
These houses were definitely designed by William Harrington:
- 1925-26: a terrace of 8 houses in Nightingale Lane Bickley, numbers 87-105
- 1926: a pair of semi-detached houses between what were then 3 and 5 Quernmore Road Plaistow
- 1927: a second pair of semi-detached houses in Quernmore Road Plaistow; I donít know which these were
- 1928: 1 house I havenít been able to identify, in Park Lane Plaistow.
These were definitely designed by Llewellyn Harrington:
- nothing built by KPEC before 1915; Llewellyn may not even have been working for KPEC before this date; or he may not have been qualified
- 1915: alterations to a house in Quernmore Road which had probably been built by another firm
- 1926: 1 house which I havenít been able to identify, in Park Lane Plaistow
- 1927: 1 house with garage on Kenilworth Park Avenue
- 1929-mid 1930s at Chiswick Park:
4-30 Devonshire Gardens; as maisonettes
8-62 evens only Grove Park Road; 8-18 as maisonettes
57-39, 60-42 Hartington Road
59, 61 Hartington Road; two individually designed detached houses
1-27, 2-30 Kinnaird Avenue
and these few houses elsewhere in Chiswick:
1931: Ellesmere Road Chiswick: as maisonettes; one at least is still owned by a
descendent of Henry Norris
1931: two houses in Sutton Court Road that I havenít identified.
All other properties built by KPEC could have been designed by either of the brothers; or, indeed, by other people working in KPECís offices (Iím not sure there were any but there may have been). My own view is that the earlier the house was built, the more likely it was to have been designed by William.
BICKLEY
My discussion of the design KPECís houses is below is based solely on Bickley. I begin with the only houses we saw that can definitely be pinned down to either of the Harringtons: 87-105 Nightingale Lane, definitely designed by William Harrington, and built 1925-26.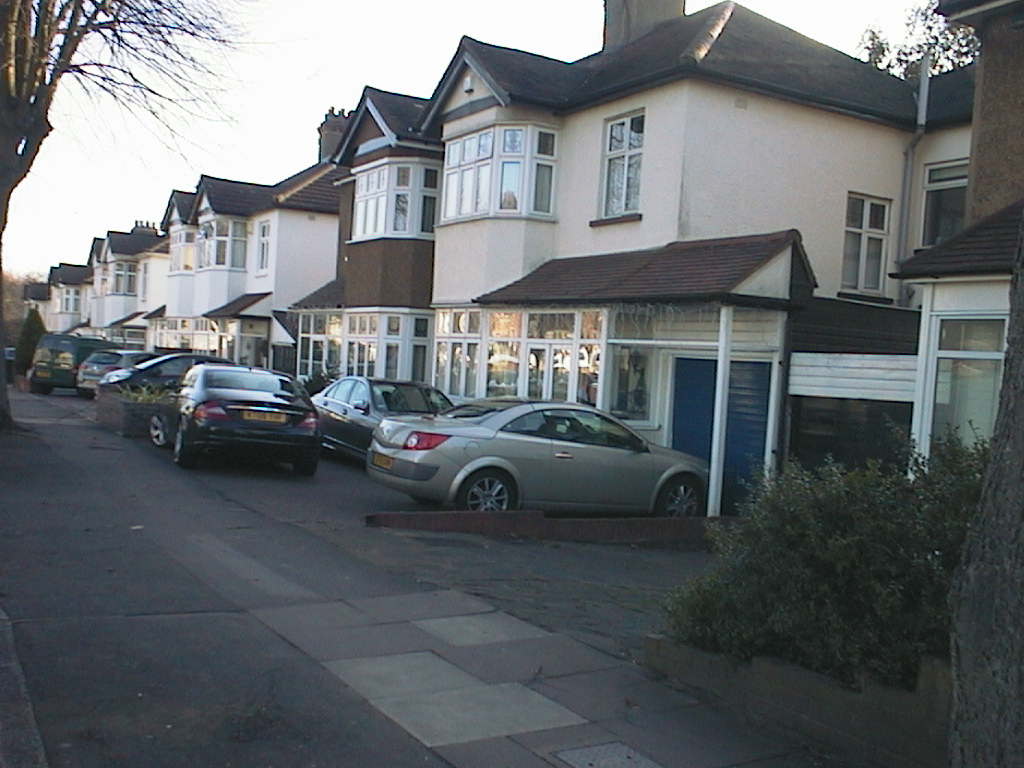 As with the designs by William Poole and Frank Poole for the Allen and Norris partnership, you can see the influence of Bedford Park in these: the double-height bays with a gable above the top one; the use of dark brown tiles not slates on the roof of the house and the roof of the porch; the dividing of the windows into a small pane at the top with a longer one below; the use of casement rather than sash windows; the use of white-painted render on the walls. The bay is tapered rather than square at the sides - an idea still drawn from Norman Shaw but from Cragside (see below) rather than Bedford Park. The bay has a long straight front; and thereís a rather squat gable above the top of the bay.
Nearly all the houses in the row had glassed-in the original porch. But I think that as originally designed the front door was on the line of the front of the ground plan - that is, it wasnít inset; and the original porch was open to the elements.
This was not an elegant design. And whereas Bedford Park did eliminate the elaborately decorated surfaces of the typical Victorian house, you can go too far, and the Nightingale Lane design had no decoration at all; unless it was on the original front doors and their surrounds, which I couldnít get a good look at. Harrington had moved from Bedford Parkís clean lines, to austerity - perhaps befitting the troubled economic times of the mid-1920s.
Iím not really keen on the art historical approach to unattributed designs: attributing them on stylistic grounds. However, I couldnít help noticing some similarities between these houses and the terraced row on Bird-in-Hand Lane, below.
The houses below could have been designed by either William or Llewellyn Harrington. I list them in the order of the dates of their planning applications: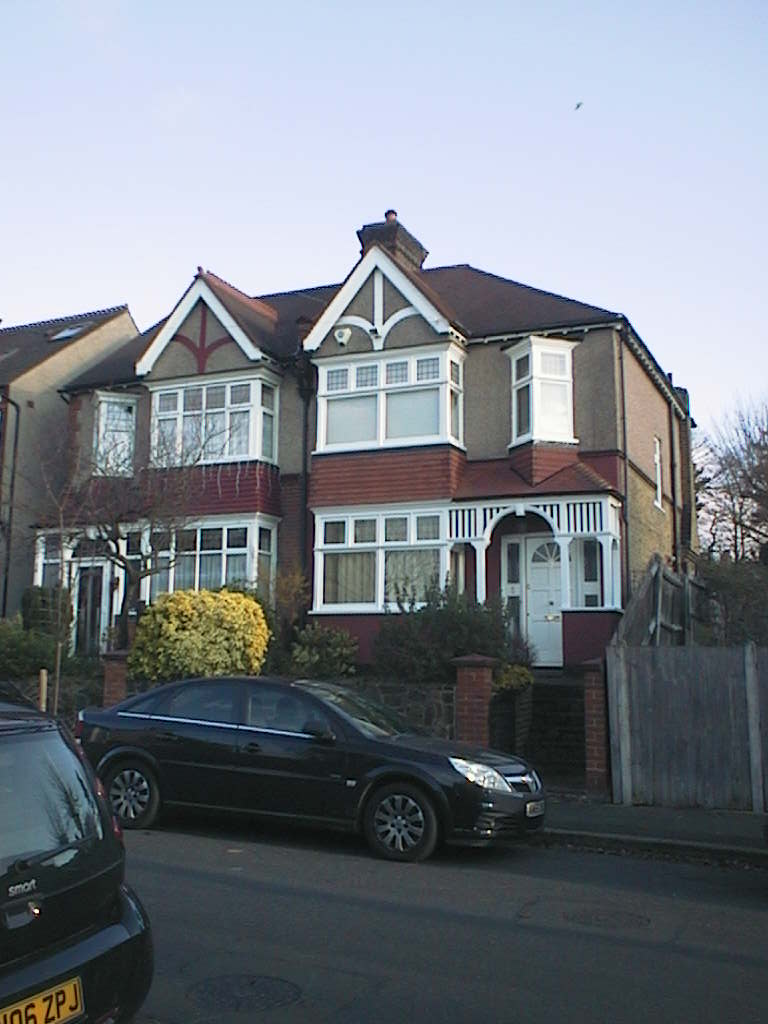 KPEC built one terrace on the east side of the road; and a short terrace on the west side at the northern end; all to the same design. The other houses in the road were built by another firm. Bedford Park elements that are (I hope) becoming familiar are in this design: double-height square bays, with casement windows divided into a small top and a long bottom pane; a gable above the bay; the use of render on the walls (though I donít like the beige colour; I wonder if it was original?); brown tiles on the roof; front door on the line of the ground plan. There are some interesting variations on the Bedford Park theme however, and the most obvious is the Ďtwo sides of a triangleí oriel window above the front door, lighting the stairs. Frank Poole had used the same design on a corner shop on Wimbledon Park Road on the Southfields estate in Wandsworth. While the idea of a front door with one narrow window on each side of it was used at Bedford Park, the white-painted railings on the front edge of the porch are another idea Frank Poole used at Southfields. The front of the porch is supported by rectangular posts - you canít call them columns really - with a winged design at the top, which I havenít seen at Bedford Park though itís probably there somewhere. The house in the photograph has a nice fan-shaped window in the front door but I fear this isnít original. Further up that row a house not yet modernised had a round window in its front door.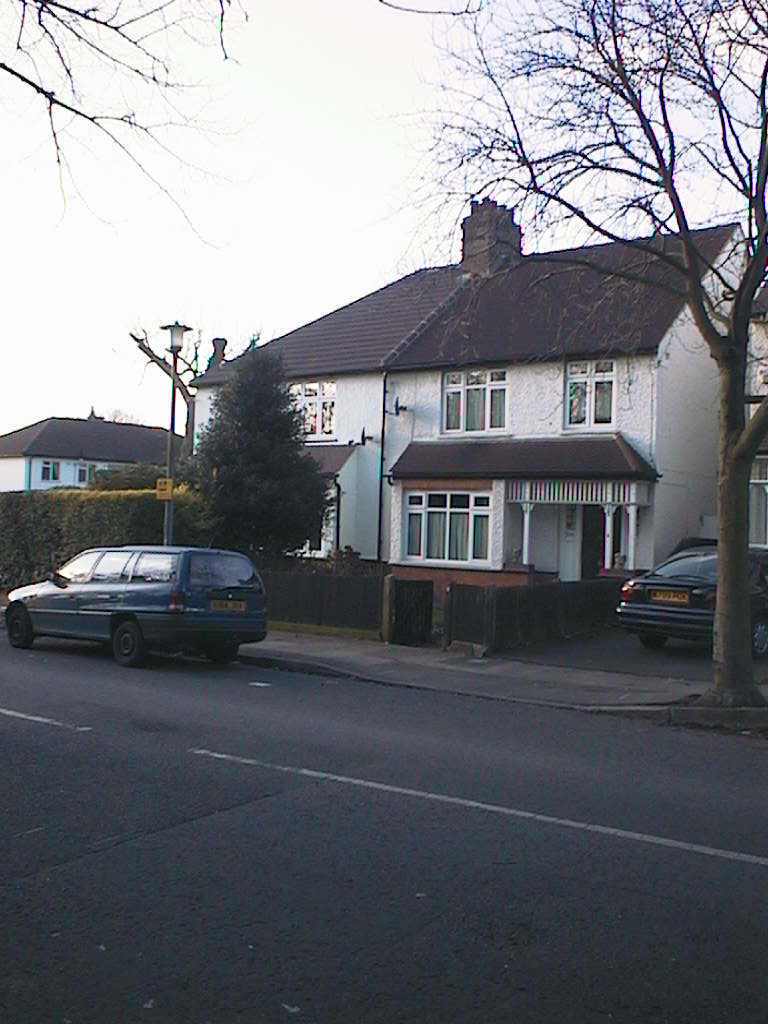 KPEC bought land on both sides of the southern end of Bird-in-Hand Lane and built houses on both sides; though I couldnít identify to my own satisfaction the three big houses in their own grounds that were built on the east side of the road. The two houses in the photograph are part of a terrace, built on the west side northwards to the corner with Nightingale Lane though there is one house in the middle thatís not KPEC, I donít know what happened there! Itís this terrace that reminds me of the row in Nightingale Lane:
- the use of the white-painted railings on the porch
- the use of the rectangular support with the winged top to hold up the porch front
- the design of the front door, with a window at the top and a narrow panel down each side, with glass at the top.
The terrace was built in two stages in 1921 and 1922. Again, the design is very plain and suggests that the brief was to keep costs down. There is a bay, but itís only one floor in height. The windows are small on both floors and have fewer subdivisions than on other KPEC houses. All the walls are rendered. As with both Nightingale Lane and Amesbury Road, thereís a tiled roof to the porch; here it goes only to the nearest edge of the bay. Below the bay, to the front door, is red-painted brick; I thought it probably wasnít painted originally but some of the other houses in the row also had it including the one that hadnít been modernised.
I think William Harrington designed these.
And now for something completely different! Iíve explained in my files on KPEC that I havenít been to Plaistow Bromley to try to identify houses built there by the firm. But I have in my mindís eye a view of what they might look like: 35 Bird-in-Hand Lane, built at the same time as 1 and 3 and you can see where all the money KPEC had to hand at the time was spent.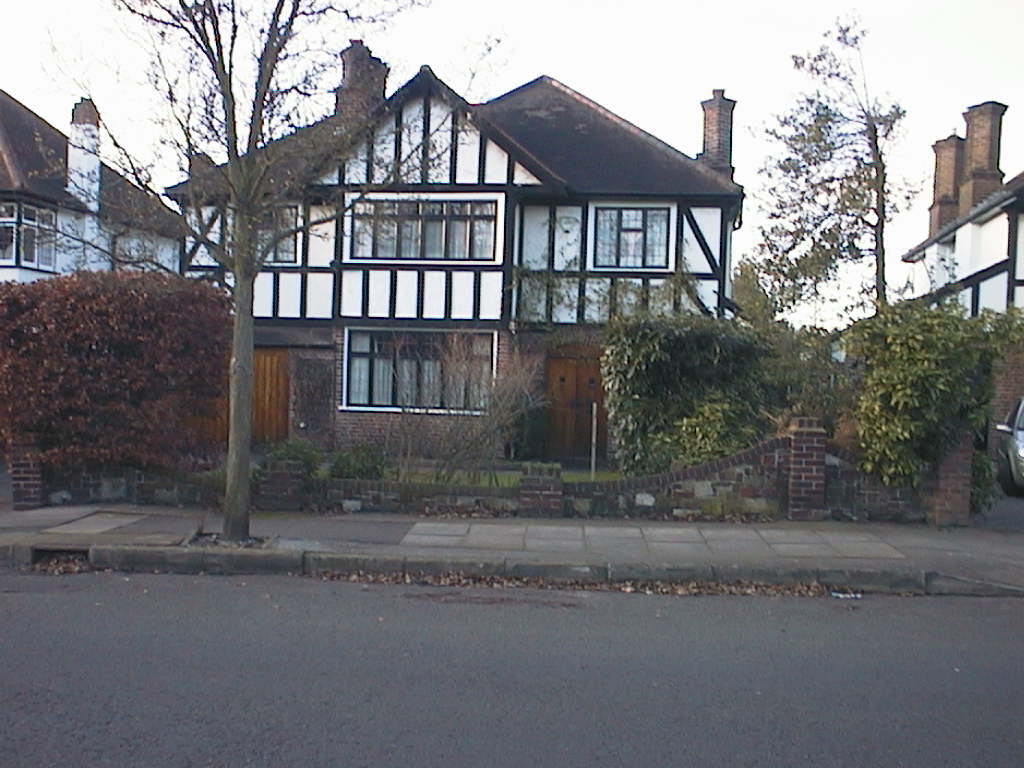 35 Bird-in-Hand Lane is one of a row of three or four houses built by KPEC on the west side of the road, north of its corner with Nightingale Lane. The planning application is dated 1921 though they may not have all been built at once. They are not all identical but they all have similar elements and clearly a set based on the same set of ideas. They are all detached, on a large site and with a generous ground-plan; although the front garden, at least, is small for the size of the house.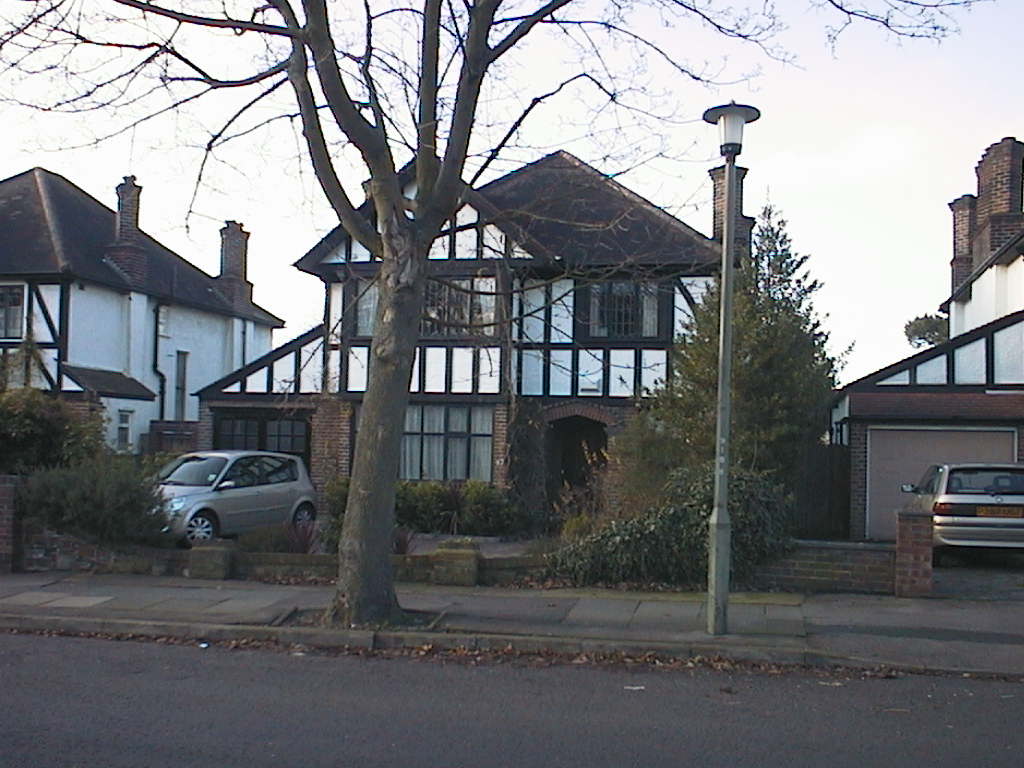 35 Bird-in-Hand Lane is designed in one block with a garage integral to the building. Number 37 has an extension on the side incorporating a garage; which may be a recent add-on but is in keeping with the original building. 37 also has its front door set into a porch, unlike 35. 35's front door, if original, is an imposing one with only a very small window in it.
The houses introduce an element of Richard Norman Shawís architectural designs that you donít see at all in any designs built by Allen and Norris: the curse of the mock-Tudor executive home - half-timbering. Norman Shawís houses at Bedford Park donít have much of it; but he used it lavishly to decorate the tops of the stone walls at Cragside House, which he designed for the iron and steel manufacturer Lord Armstrong in 1869. Cragside House is in Northumberland. A house with half-timbering, by an architect influenced by Norman Shaw and near enough to Bickley for the Harringtons to visit it is Munstead Wood House, designed by the young Edwin Lutyens for Gertrude Jekyll, the garden designer. Munstead Wood has many Bedford Park elements: red brick, red tiles, gables, long slopes to the roof; though it doesnít have bays, at least not bay windows, and the walls are not rendered. The house is a U-shape and inside the U there is a first-floor gallery which is half-timbered.
In KPECís group of houses the half-timbering is a dominating feature of the design: black wood-beams against white-painted render or red brick. Another element based on Tudor originals but also a hallmark of Bedford Park is the two tall, eye-catching chimney stacks. There is a double-height square bay (not so Tudor) with a gable over it in typical Bedford Park style.
[ROGER THE NEXT FILE IN THIS SEQUENCE IS SLHARRI2]
IF YOU WANT TO KNOW MORE ABOUT THE SOURCES OF ALL THIS INFORMATION, SEND ME AN EMAIL AND IíLL SEND YOU THE SOURCES FILE.
Copyright Sally Davis January 2009
***