Houses and Grandstands: Henry Norrisí Architects
Last updated: February 2009
Iíll start this file by saying that I actually think Henry Norris had very little to do with the choice of architects who worked for Allen and Norris and Kinnaird Park Estate Company.† The choice for Allen and Norris had already been made before Norris accepted William Gilbert Allenís offer of a partnership.† And I shall argue that Allen knew KPECís architect and that was how he and Norris became directors of KPEC.† When it came to the grandstands at Fulham FC (Craven Cottage 1905) and Arsenal FC (Highbury 1913) there was only one choice of architect that any football club wanting to go places was going to make: Archibald Leitch was the man.
Iíve mentioned briefly in my files on the estate agents in Henry Norrisí life that the modern idea of architects as university trained had not come into being during Norrisí life; except, perhaps at the very top of the profession, the men (no women alas) who designed the Houses of Parliament or the stately homes of England.† At the level that Allen and Norris, KPEC, Fulham FC and Arsenal FC were employing men to design houses and grandstands, most men who called themselves architects had learned on the job, not by building walls necessarily but through an apprenticeship, either formal with indentures, or something less legalistic but still demanding of time and effort and attention; by learning surveying techniques and watching their employer on the job.† For most architects it would have been a training focusing more on practicalities than aesthetics.† Even Norman Shaw (see below) trained on the job, working for an architectsí practice in London.
BEDFORD PARK
It may seem odd to begin a consideration of Henry Norrisí architects by talking about a housing estate which none of them had anything to do with, but the influence of Bedford Park on house design in the early years of the 20th century was so big itís impossible to discuss the Pooles, Harrington and even Leitch without it.
Bedford Park is a small housing estate just north of Turnham Green in west London.† The site was bought by Jonathan Carr in the 1870s as a property speculation.† Several architects were employed by Carr to work on the design of the houses to be built at Bedford Park but the man whose name has become synonymous with the estate is Richard Norman Shaw.† Norman Shaw developed a basic design which could be varied in several ways.† The design combined elements of the 18th classical style with ideas being developed by the 19th century Aesthetic Movement, with epoch-making results.† I give below a list of design ideas used at Bedford Park which spread through the rest of English architecture:
-†††††††††† a general absence of decoration: out went the riot of decoration in every style from classical to mock-Gothic that had dominated Victorian buildings for 40 years or so
-†††††††††† the absence of decoration meant that any that did appear on the houses really caught the eye.† In general, lines on the houses in Bedford Park are straight, and angles are 90 or 45ļ; such decoration as there is tends to be gentle curves and arabesques
-†††††††††† an emphasis on red and white: the outsides of the houses are characterised by red brick and red-brown roof tiles contrasted with white-painted wood work and render
-†††††††††† no porches: houses in Bedford Park had front doors built on a line with rest of the building, not inset into the back of a porch; front doors have a decorated canopy over them, attached to the wall rather than being an integral part of the building
-†††††††††† steeply-pitched roofs, often dropping to near the ground and with attic rooms at the apex
-†††††††††† two-storey square-edged bays; these have big windows with a great many subdivisions usually in white-painted wood; use of casement windows rather than sashes
-†††††††††† gables: some just decorative and sticking up above the line of the roof so that the roof canít be seen from the street; but some forming an angle of the roof, and having a room in them.† The design of the decorative gables varied: some were angular, others deeply curved like half a circle
-†††††††††† the use of a tall chimney stack as a decorative feature
-†††††††††† use of single, narrow windows to the side(s) of the front door and above it, to light the stairs
-†††††††††† narrow balconies on the first floor, outside a window, edged with white railings
-†††††††††† windows set into the roof
-†††††††††† small windows at eye level on the front doors; one design often used was round with a two-cross design in wood on them
-†††††††††† use of tiles on the roof, rather than the more typical Victorian slate.
However, Bedford Park had some features that did not become widely used; mostly for financial reasons:
*††††††††† the houses tended not to have a simple cube-shaped floor plan; they were more like a cube and a rectangle put together at angles to each other
*††††††††† Carr ordered that the mature trees on the site be kept: the road layout had to work round them
*††††††††† the road layout was of short, slightly curving streets with many intersections, rather like a part of a spiderís web; there were thus many unusually-shaped corner sites
*††††††††† there were few terraces, and those that there were, were short, comprised of two or three houses
*††††††††† each road had a number of differently-designed houses in it
*††††††††† the estate was conceived as a community in the making.† As well as designing houses, Norman Shaw designed a pub (the Tabard Inn) and St Michael and all Angels church for the estate, which was also built with some shops and a parish hall
*††††††††† Bedford Parkís houses were big.† Carr was building them for the professional, artistic upper middle-classes
*††††††††† the estate had terraced, semi-detached and detached houses in it; I think no flats though.
Something else about the building of Bedford Park that Allen and Norris had no wish to follow: Jonathan Carr went bankrupt half way through the process and had to regroup his finances.
Although carefully planned, Bedford Park always had the feel of having grown haphazardly but naturally, like a country village.
I shall show below that the effect of Bedford Park took a while to filter through to the architects employed by Allen and Norris and by Kinnaird Park Estate Company.† Even Archibald Leitch was influenced by it, though.† Some design elements from Bedford Park were just cribbed wholesale but in general it was the ideas and themes used at Bedford Park that other architects took up, not actual details.
If you want to take a look at Bedford Park and live near enough you can walk around it.† If youíd rather let your fingers do the walking, itís well represented on the web: thereís the Bedford Park Society at www.bedfordpark.org; and more general architectural sites have some pictures:† www.victorianweb.org, www.hidden-london.com/bedfordpark.html; and //greatbuildings.com.
ALLEN AND NORRIS: WILLIAM CLINCH POOLE AND FRANK LEONARD POOLE
William and Frank were both sons of Josiah George Poole, a surveyor and architect based in Southampton.† He did the wide range of work you would expect of a professional in a port town. He designed shop fronts, alterations and extensions to existing properties, quantity surveying, valuation and preparing plans for solicitors.† He was also surveyor to Southampton Improvement Commissioners, who had the duty of updating the cityís old sewage system; and surveyor to the Southampton Harbour Board.† Josiah Poole married twice and had a family large even by Victorian standards: about 20 children in all!† William Poole was the only son of the first marriage; he was born in 1841.† Frank was the youngest son of the second marriage, born in 1874.† So in terms of years they were more like father and son than step-brothers.
William Poole was apprenticed to his father in August 1856.† He completed his apprenticeship in 1863 and became an Associate of the Royal Institute of British Architects.† For a short while, he worked with his father in Southampton as Poole and Son, but then he decided to move to the greater opportunities London was offering as the expansion of the suburbs began.† Younger brothers took his place training with their father.† One or two stayed in Southampton.† Two others went to London.† One emigrated to Australia.†
In London, William Poole didnít set up in business for himself immediately on arrival in London.† He seems to have opted to spend time working for someone else, getting himself known, first.† He married a woman from Southampton, Ann Meres, in 1866 and on the day of the 1871 census they were living in Kentish Town with their young family; they rented out part of their house to another family.† Poole described himself to the census taker as an ďassistant surveyorĒ in 1871.† By 1881, however, the Pooles had moved to south London and William had started his business: he described himself this time as ďarchitect and surveyorĒ.† On the day of the 1881 census they were living at 22 Belleville Road Battersea.† Williamís half-brother George was living with them and working for his brother.† They werenít renting out any part of the house, and they could afford, now, to have one live-in servant.† George was still living with and working for his elder brother in 1901.† They had all moved down the road to 62 Belleville Road where they remained at least until William Poole died.††
I havenít been able to find out at what date William Pooleís business was doing well enough for him to lease an office rather than work from home.† By 1904 however, the business had offices at Railway Approach, Prested Road Battersea on the way into Clapham Junction Station.† I have found a list of the properties designed by William Poole; unfortunately it isnít dated.† The items on it are:
-†††††††††† the housing estate developed by Magdalen College Oxford on land it owned in Wandsworth in the area between Lyford Road and Garratt Lane; though Poole was not the only architect working on this site, and the original idea for a garden suburb was not carried out in full.† Bedford Park is thought of as the original garden suburb; so this project, as originally conceived, was following Bedford Parkís trend.
-†††††††††† blocks of purpose-built flats in Coverton Road and Condy Road, Tooting; whatever their date, purpose-built flats were still rather unusual at the time
- ††††††††† suburban villas in Chatsworth Avenue, Wimbledon on land being developed by the Polytechnic Estate Ltd.† I havenít identified which properties they are.
†- †††††††† Andover House, South End, Croydon; I canít find any details of this but it sounds like an individual house standing in its own grounds.
- ††††††††† premises of Messrs Stanley and Co at 235-237 Lavender Hill, a few houses down the road from Edwin Evans and Sons, estate agents, friends of William Gilbert Allen and Henry Norris; Stanley and Co were a big bakery firm.
- ††††††††† additions to the union workhouse at Garratt Lane, the client here being Wandsworth Board of Guardians.† Most workhouses have been demolished (and good riddance to them) and this one no longer exists, the A-Z shows modern streets built over the old workhouse.
-†††††††††† houses in Tooting, Wandsworth and Fulham - which is where Allen and Norris come in.† Most of the buildings in Fulham designed by William Poole were built by Allen and Norris.† However, there are a few that were designed for other builders:
46-52 Novello Street (1896) and Broomhouse Laundry, Townmead Road (1898); and 12
houses in Holyport Road built by William Gilbert Allenís brother Maurice.
-†††††††††† Brooklands Thurleigh Road Clapham, on its corner with Ramsden Road; originally numbered 74 now 86; for William Gilbert Allen 1898
-†††††††††† Hill Crest Thurleigh Road Clapham; originally 109 now 123; for Henry Norris 1897.
William Gilbert Allen started his building business in 1890.† Due to the way Fulham Vestry recorded its drainage applications in the early 1890s, I donít know when he first employed William Clinch Poole to design what he was building.† Possibly it was right from the start, but the first mention of Poole by name in the Vestryís Minutes comes in March 1896; his was the name on the main application for all the building work on the Morrisonís Farm Estate on the west side of Wandsworth Bridge Road.††
Poole did three basic designs which, with slight alterations for end-of-terrace plots, covered all the properties built on Morrisonís Farm.†† The first was a shop with two floors of living accommodation above; all these were built on Wandsworth Bridge Road.† The second was two maisonettes divided between a semi-basement and three upper floors with steps up to the front doors; also built on Wandsworth Bridge Road.†† The third was a house/two maisonettes design which was used along Settrington Road and in the side roads between Settrington Road and Wandsworth Bridge Road.† Except on the Fulham Palace Road side of the Crabtree Lane Estate, Allen and Norris didnít build any more of the three-storey types of design so Iím going to concentrate below on the house/maisonette design.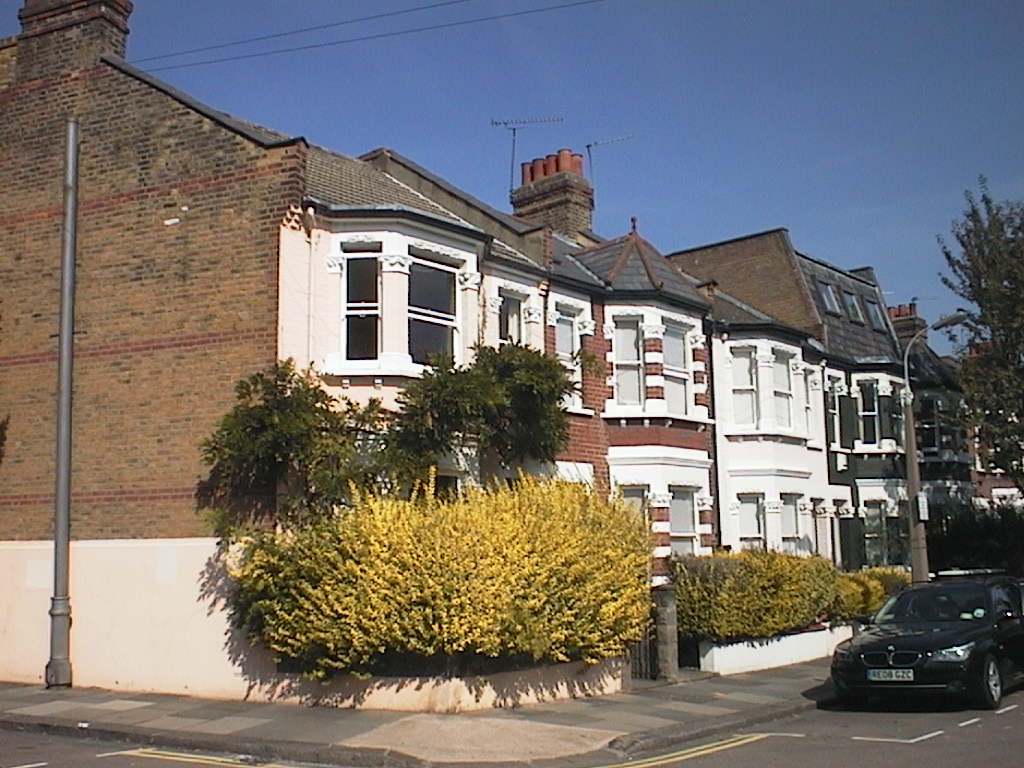 William Clinch Pooleís design for the Morrisonís Farmís house/maisonettes is typical of the 1890s, you can see miles of similar designs through London.† In front of the house is a small front garden with a low wall.† The ground plan of each house/two maisonettes is a cube, with a front door inset into one corner; the houses have a wide doorway in the porch; the maisonettes have two narrow ones.† The house/maisonettes is two storeysí high and has a double-height, tapered bay with a polygonal extension of the roof immediately above it.† The slope of the roof goes to front and back, not sideways along the street.†
Decoration is in the Victorian tradition but thereís less of it at Morrisonís Farm than on later houses built by Allen and Norris.† The front of the porch has the Corinthian-style head of a column two-thirds of the way up as if it had a column beneath, except that thereís no column, the sides of the porch are just bricks.† The top of the front edge of the porch is a straight line of bricks; on the streets off Fulham Palace Road, built in the early 1900s, the straight top edge is replaced by a deep curve with a decorated central stone.† The Corinthian-style column head is also used on the outer edges of the bay windows.†
Inside the porch, on either side of the front door, are two tiled panels, with a tall narrow picture surrounded by two layers of narrow tiles in a contrasting colour.† I noted several different designs: bullrushes is one; another has grasses arranged in a narrow-necked vase; thereís one with three birds which I liked.† The tiles were made in several different sets of colours: brown/yellow; green/blue; brown/purple. These tiled panels are also used in the streets built by Allen and Norris off Fulham Palace Road, a few years later though with different sets of coloured tiles.††
The overall design of the Morrisonís Farm house/maisonette, and the details, are both quintessentially Victorian although they were built over a decade after the estate at Bedford Park had been completed.† The only sign that Bedford Park might be having an impact is Pooleís use of red brick with white-painted render and stonework; at least thatís how the houses were built but when I walked around Morrisonís Farm I noticed a lot of the houses have had their fronts completely painted over.†
While work on Morrisonís Farm was still going on, Poole designed two more houses, one for William Gilbert Allen and one for Henry Norris, to be built in Thurleigh Road near Clapham Common.† These had shared features in common which were a notable departure from the Victorian design Iíve illustrated above.† I also think that Hill Crest, built for Henry Norris in 1897, reflects Norrisí own views, which chimed well with Norman Shawís idea of cutting out fussy design clutter.
Hill Crestís design features show Bedford Park making its way into Pooleís consciousness.† However, he also gave it some more typically Victorian features so the house is a staging post between the two styles.
Hill Crest is a big house, befitting a man who was in the midst of making a fortune.† Its use of the land on which itís built is extravagant, as it has a ground-plan thatís more Bedford Park than Morrisonís Farm, based on two rectangles at 90ļ.† Bedford Parkís influence can also be seen in the rendered, steep gable with an attic room in it, which overhangs the double-height bay.† The bay is tapered, and at the top, just below the gable, is a single line of discreet curly-edged decoration, the only curls on the buildingís frontage.† Both those features are more Victoria than Norman Shaw.† However, the casement windows in the bay and their subdivision into small squares, is another Bedford Park feature.† The most interesting feature of the house, to my way of thinking, is the long, shallow curve above the French windows on the ground floor; though very much in keeping with Bedford Parkís design ideas, I havenít actually seen such a shallow curve used in Bedford Park itself.† So thatís one-up to Poole.† I think both Poole, and Allen and Norris, liked the curve very much, because it appears in their office building (see below) with lots of tiny squares of glass below it; and on two other designs that they built in the 1900s on Fulham Palace Road and Niton Street.† On Allen and Norrisí offices, the curved top of the windows is actually echoed in the window by the use of curved-topped glass panels: something else I havenít found at Bedford Park so thatís Poole two-up.† Three-up to Poole is picking out the curve in alternate red and white.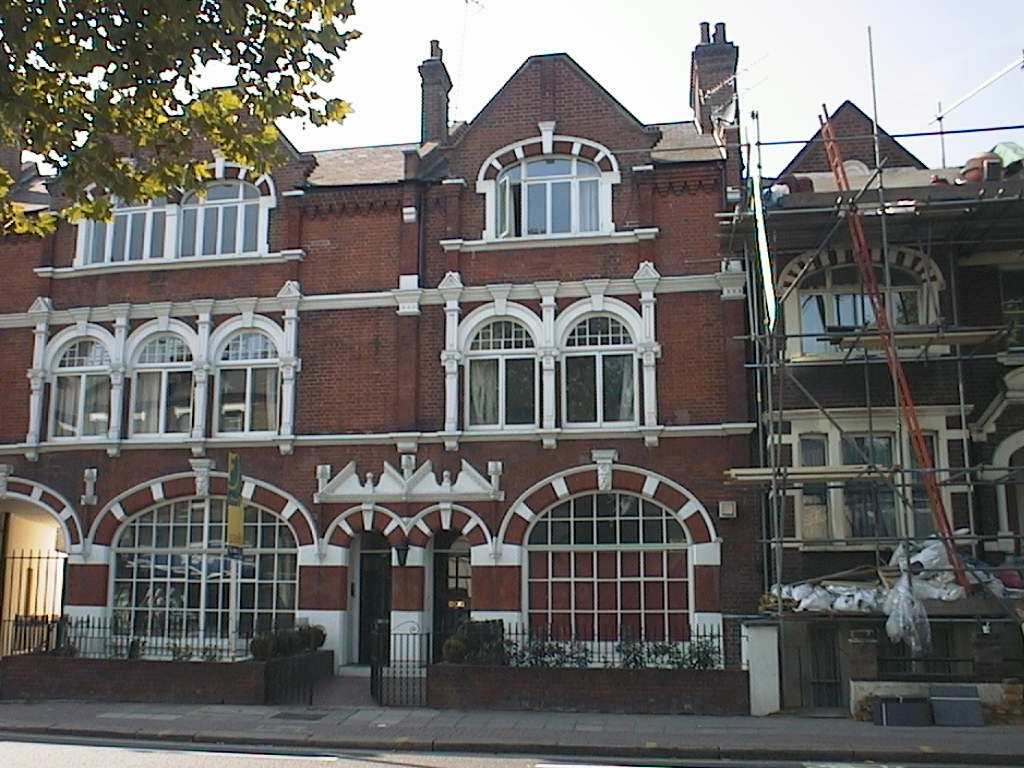 Hill Crestís large front-door, with windows to its side, has a lot of glass in it; I havenít noticed so much glass on any of the Bedford Park front doors Iíve seen.† I think the glass is the original, because Brooklands (built for William Gilbert Allen in 1898) has more or less the same design.† Itís another step away by Poole from the usual Victorian front-door with its long, narrow panels of glass either side of the door knocker.
It seems that William Gilbert Allen and Henry Norris were not quite ready for the features built into Hill Crest and Brooklands to be let loose on the houses they were building to sell to the public: the Morrisonís Farm design of house was also used for the south side of Crabtree Lane, and the southern streets of the set of roads between Fulham Palace Road and Craven Cottage, which were Allen and Norrisí next big project.† However, the maisonettes the Allen and Norris partnership built down the west side of Fulham Palace Road opposite the cemetery had small balconies with white-painted railings, they had the long shallow curve above the windows ŗ la Bedford Park; while they also had the front door set into a porch in the older style.††
The row of houses on the north side of Niton Street seem to me to mark another big step in the direction of Bedford Park.† Perhaps Allen and Norris werenít sure whether they would be popular with potential buyers: they only built this one short row, opposite houses they were building at the same time but to the Morrisonís Farm design.†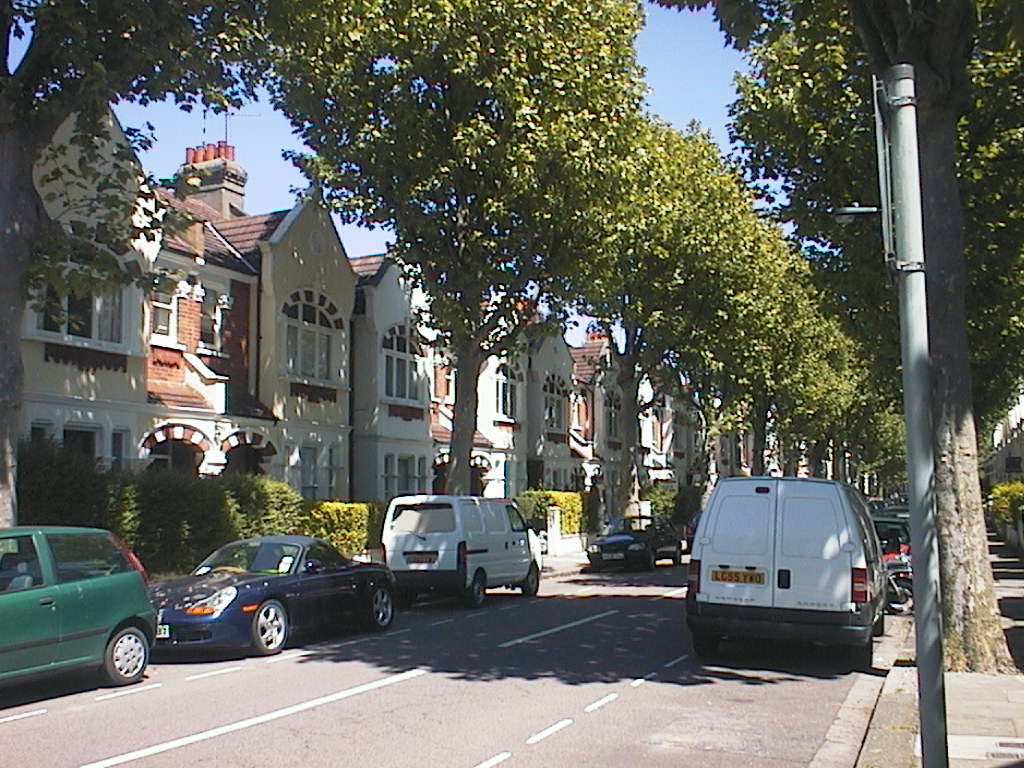 The long shallow curve above the windows appears again, above a double-height bay that has square sides.† A Hill Crest-like gable tops the bay; itís not a decorative feature, the roof comes out right behind it.† The wall is rendered and painted white, to dramatic effect.† Itís curious what a great impression of height this design of house gives you.† The long curve is used again over the porch, picked out in red and white like on Allen and Norrisí offices; thereís still a porch inset into the corner of the house in the Victorian tradition.† On the house there is a small sign of things to come: above the porch there is a row of scalloped decoration.† This became a prominent feature of what I think of as the Southfields design.† †††††††††††††††††††††††††††††††††
According to William Clinch Pooleís obituary in The Builder (2 June 1911) Allen and Norris built 225 houses to his designs.† I havenít counted them but Iíll take the magazineís word for it.† I refer interested readers to the files on Allen and Norris and the list of properties they built, for details of the exact addresses in Fulham.† William Clinch Poole died on 18 April 1911.† His business had already begun work preparing designs for Allen and Norrisí estate at Southfields, Wandsworth, but it appears Frank Poole did most of that.† Frank Poole, rather than his elder brother George, took over as head of the business, possibly with Williamís son Ernest working for him.† Soon, Frank Poole had moved its offices away from Battersea.
[ROGER THE NEXT FILE IN THIS SEQUENCE IS SLSFIELD]
IF YOU WANT TO KNOW MORE ABOUT THE SOURCES OF ALL THIS INFORMATION, SEND ME AN EMAIL AND IíLL SEND YOU THE SOURCES FILE.
Copyright Sally Davis Febuary 2009
***